Post by ap on Apr 6, 2020 9:33:34 GMT -5
Since everyone is at home, time to try new recipes. This was inspired by a local restaurant that serves a "Cheesy Lobster/Shrimp Dip" appetizer. To be, it's consistency is somewhere between a soup and a dip, but it's tasty, so I'm trying to re-create it as best I can.
Note, the seafood used can be substituted. I didn't have lobster so I'm using canned crab and clams to go with the shrimp. Next time I think I'm going to try canned chicken with green chilies.
Ingredients (makes for 6 small ramekins - see example in first pic)
12-16 small shrimp, copped int small chunks
1 can diced clam meat
1 can crab meat
1/4 onion, diced fine
2-3 celery stalks, diced fine
1 small carrot, diced fine
1-2 cloves garlic, diced fine
2 cups heavy cream or half-and-half
2-3 Tablespoons Sour Cream
Shredded cheese of your choice
Squirt of lemon juice
1/2 teaspoon Old Bay Seasoning
Salt/Pepper to taste
Directions:
1) Combine chopped shrimp, crab meat and clams into bowl. Stir in 2-3 tablespoons of sour cream. Add a little salt/pepper and squirt of lemon juice and set aside.
2) In small pot add 1-2 tablespoons of onions, carrot, and celery to the 2 cups of cream. Add a little salt/pepper and the Old Bay seasoning. Bring just under boil and then take off heat and set aside.
3) In each ramekin, place 2-4 spoonfuls of meat mixture, and then top with cream/veggies. Just fill over the top of meat; don't add too much cream or else it becomes more soup-like - not necessarily a bad thing!
4) Dollop shredded cheese on top of each ramekin. I like a good size dollop!
5) Place in oven under broiler. Broil for 3-5 min until cheese has melted and started to turn brown.
6) Pull from oven, place on a small plate and serve with chips or celery stalks.
Enjoy!
Per Choupy Rules, here is pic of ingredients. But I forgot the dairy for the pic ... sorry.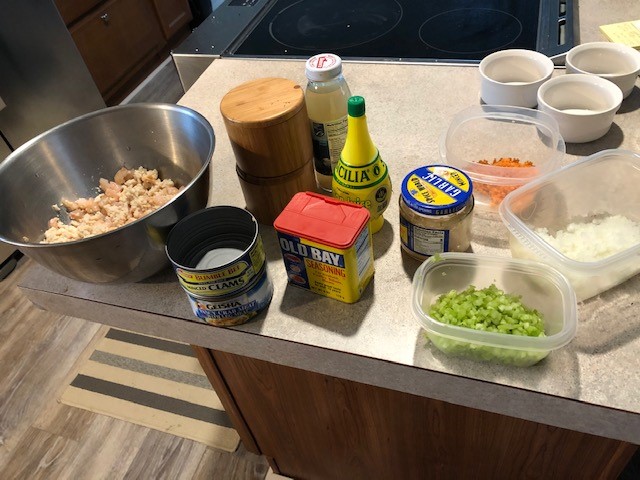 This is the mixed seafood, but at this point I was just throwing all my leftover cream/veggies into the leftover seafood ....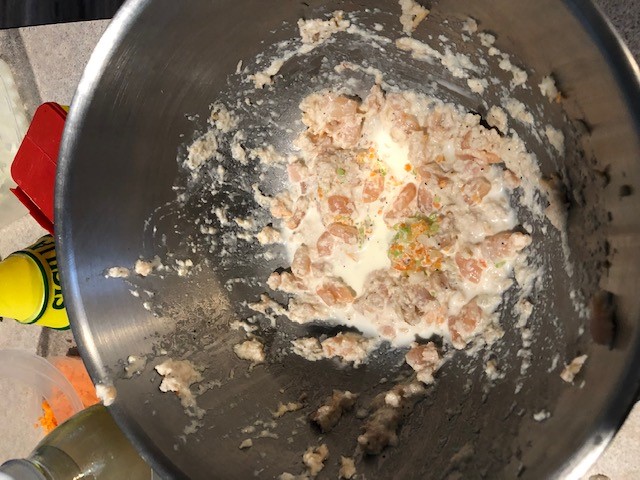 Cream and veggies on the stove .....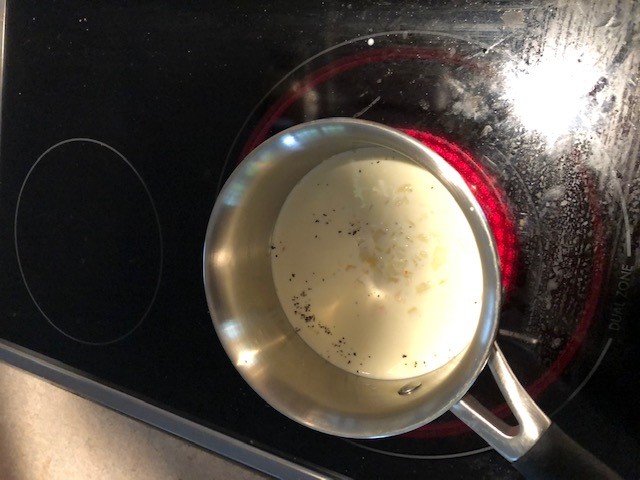 Finished product!!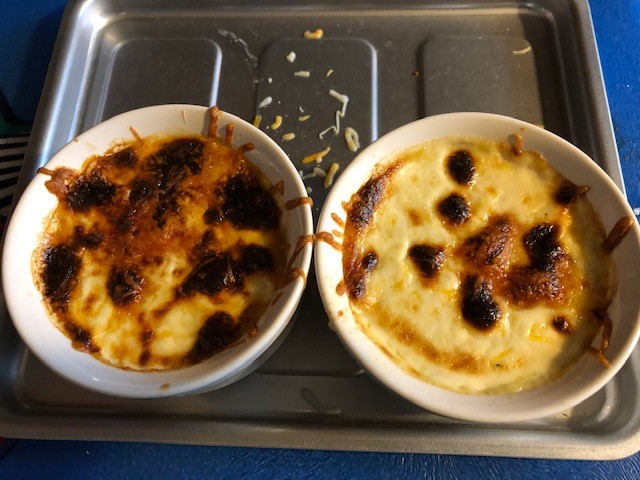 AP