Post by ap on Jan 13, 2020 10:34:16 GMT -5
Well, the Weather gods gave me a small break in the windy weather on Sunday. Took my Solo Skiff with me this trip as I wanted to do some exploring that was beyond a comfortable paddle distance.
I motored all the way out past the last of the mangrove islets and started exploring the areas around a large number of oysterbars. The tide was already in the later stages of outgoing so there were some good rips between the bars. I ended up anchoring behind a few of the bars to get out of the wind/current.
Here is a pic looking north towards the Crystal River Nuclear Power Plant towers off in the distance (fyi, plant is no longer active) ...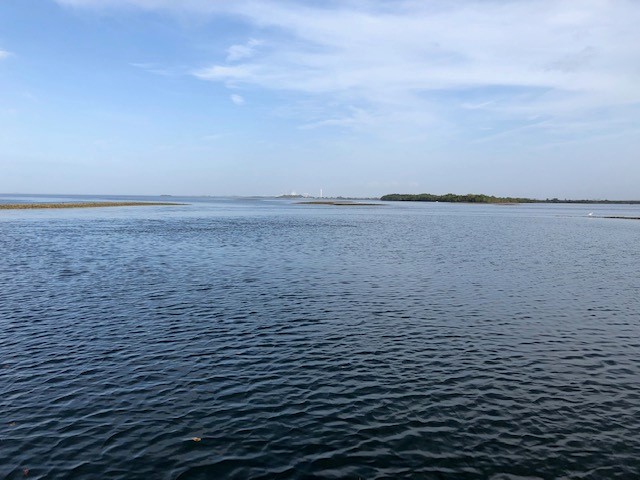 Fishing around the bars, I picked up several dink trout, then managed to get this nice girl ....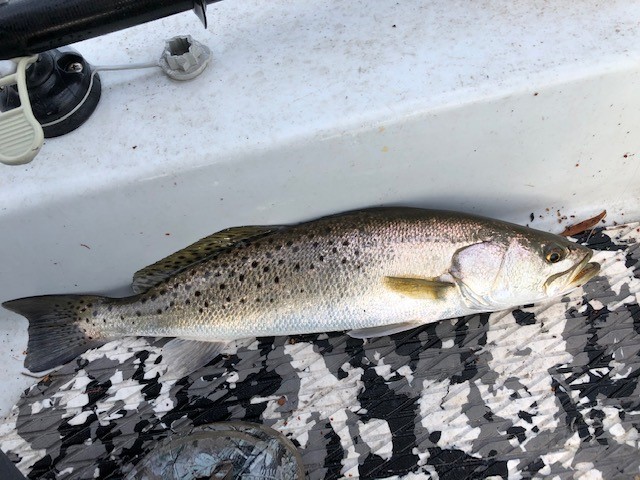 Yes, my Solo Skiff is dirty. Had it uncovered underneath an oak tree in our yard for a week or so (back when I thought I'd be able to go fish, but weather was uncooperative)
I fished several of the oyster bars in the area, and was really expecting better fishing. I caught one more decent trout, and then got into some ladyfish. That would prove my undoing ....
So decided to leave the oyster bars and head back to a place where I have had success before. Viv, you know exactly where -- where I was catching reds with you your last trip up there ....
Anyway, was not expecting much. Made my first cast after anchoring up, and BAM!! Strong strike followed by drag run -- I thought I had a nice red! But SPLASH! Up out of the water jumps a really nice snook! It keeps taking drag, so I tighten up a bit and slowly work it closer to the boat. Up it comes for another head-shake and POP goes the leader. I'm afraid I did not check the leader after those last few ladyfish, and it was compromised. Darn!! Now, I was fishing my spinner at the time ... sine I did not want to re-rig it right away, I hauled out my flyrod and made a few casts with it. BAM! another hit! Not as big a fish, but still a nice one and I do get this one to the Solo Skiff for a pic ...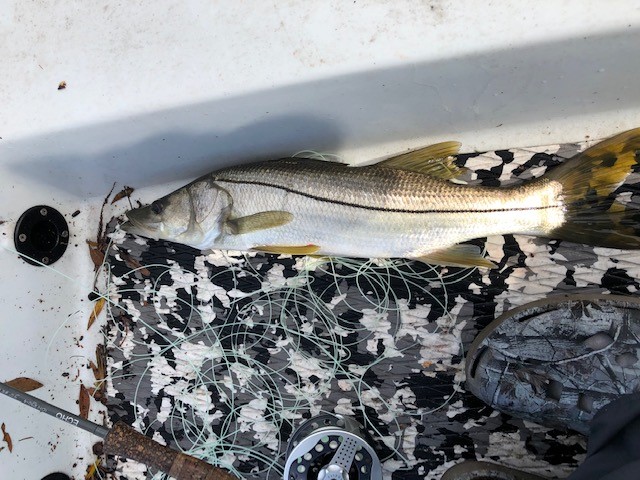 Told you my Solo was dirty!!
Fly cast for another 15 min or so with nothing, so I put the flyrod away and re-rigged the spinner. I thought I'd try a few more casts with it before I finished up for the day. Glad I did, as that's what got me the rat red for the Slam!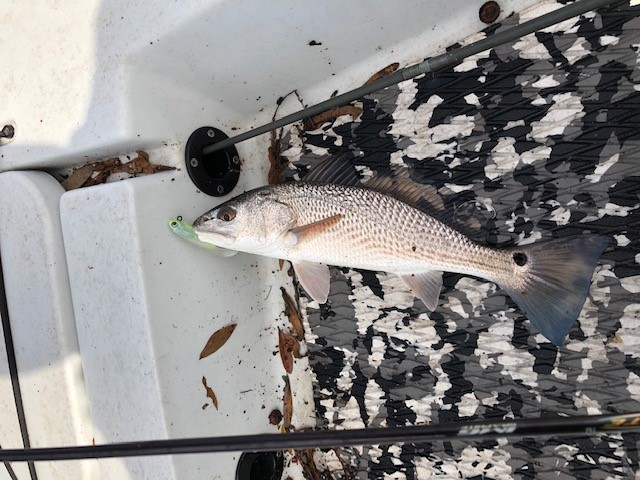 Not much else after that (I did get a small black sea bass of all things!), so it was time to head on home.
Really glad I got the Solo Skiff out - it had been quite a while since I last used her. The trailer makes it easier to launch and retrieve, the new tiller extension makes it more comfortable to operate. I forgot how easy it is to stand and fish out of ... and of course I got to places I'd never go to if just kayaking.
AP