Post by ap on Jan 8, 2020 9:06:39 GMT -5
We had our recent cold snap, and it gave me the opportunity to create a Beef Stew and use the Instant Pot. I modified the recipe below (see my notes) slightly both for Keto purposes (had to lose most of the potatoes and substitute cauliflower) and for what I had in the pantry/refrig (see notes below).
The one thing about a stew is it seems you can have quite a lot of variation of what you put in there as long as you get some good sauce to marinade everything together. I really liked this combination below (so did wifey). Taking out the potatoes and adding the cauliflower removed the "bad" carbs for those wanting to do this keto-style but gave back some bulk - so much so that I did not need to thicken at the end (and cornstarch is non-keto, but you can use other substitutes).
Cooking everything in the instant pot meant fast prep time and no other dishes to clean up -- win/win. And it tastes great!! It came together so fast I forgot to take meal-prep photos, and even almost forgot to take a pic of the finished product. Not quite as pretty a photo as I would like (this was my second bowl!) since you don't have a lot of color contrast in the dish, but it more than makes up for it in taste!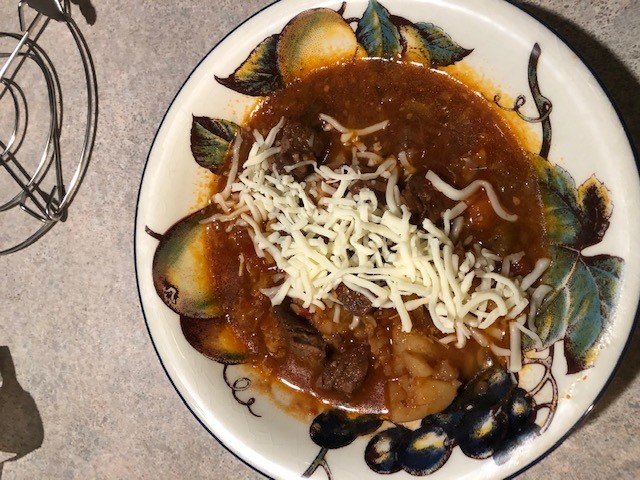 BEEF STEW (Instant Pot version, with some Keto substitutes)
(makes about 10 cups)
Ingredients
1 1 and 1/2 Pounds Beef Stew Meat
1 Tablespoon Olive Oil
1 Teaspoon Salt
1 Teaspoon Pepper
1 Teaspoon Italian Seasoning
2 Tablespoons Worcestershire Sauce
3 Cloves Garlic, Minced
1 Large Onion, Chopped
3 Celery stalks, Chopped (not in original recipe but I added anyway)
1 16 Ounce Bag Baby Carrots, Cut Into Slices
(only had a few to add, could have used bell pepper chunks)
1 Pound Potatoes, Cubed
(I substituted one large cauliflower cut into chunks, but did add a couple small red potatoes)
2 1/2 Cups Beef Broth
( I was out of Beef broth, so I used Chicken stock - use what you got!)
1 10 Ounce Can Tomato Sauce
(was out, substituted marinara sauce)
2 Tablespoons Cornstarch
(I did not need cornstarch and water for thickening - the cauliflower did the trick. But you could use zanthum gum as a replacement to keep it Keto)
2 Tablespoons Water
1
Shredded cheese of you choice, or sour cream topping (optional)
Instructions
Add the olive oil to the instant pot and turn on the saute function. When the oil starts to sizzle add the meat and season with the salt, pepper, and Italian seasoning.
Cook the meat until Browned on all sides.
Add the beef broth to the instant pot and use a spoon to scrape the brown bits from the bottom of the pan.
Add the Worcestershire sauce, garlic, onion, carrots, potatoes, celery, and tomato sauce.
Close the lid and steam valve on the instant pot.
Cook on high pressure for 35 minutes, then allow the pressure to release naturally for 10 minutes before doing a quick release.
Mix together the cornstarch and cold water in a small bowl and stir into the stew until thickened.
Optional - Throw cheese on top and let it melt in.
Enjoy!
AP