Post by ap on Oct 2, 2019 10:36:36 GMT -5
I have a problem at my home here in Weeki Wachee ............ too small of a yard to store everything.
On the side of my house I need to store the trailer for my wife's Boston Whaler. Her boat sits in the water at our dock most of the year, but of course has to be occasionally hauled out for maintenance, hurricane prep, etc. But also stored on the same side area of the house is my Solo Skiff. I used to have it stored on another utility trailer - really not a good trailer fit as there was no post/winch and no great way to tie down the boat. However the wife was complaining about how storing two trailers caused the one trailer to be pushed somewhat into the front of the yard, messing up the look of the house from the street, yada-yada ...... and I needed to do something about it.
So I did. First, I sold the utility trailer. I then decided to maximize use of the existing Boston Whaler trailer - I would store the Solo Skiff on it while the Whaler stays at our dock. Easy enough to unload the Solo skiff in the event I needed the trailer for the Whaler.
I added a second set of bunks to the trailer and extended the new bunks out the back of the trailer by an extra foot (the Whaler is 13'. the Solo is 14'). So now, I can transport my Solo Skiff by trailer. I think this will save a lot of wear and tear on me in terms of getting to the Solo Skiff and getting it loaded. I won't have to (a) move the trailer out of the way to get to the Solo, then (b) put the BoonDock wheels on the Solo to (c) move it out so it can be loaded onto my truck. I can just connect the trailer and be off and on my way a lot faster.
So this is what it looks like now, parked on the side of the house. I have a cover for the Solo Skiff, but last year squirrels liked getting under the cover and creating nests and keeping stashes of food inside the Solo, making a horrible mess. No more. The Solo may be exposed to the elements, but I think it will stay cleaner ....
Anyway, this is what it looks like now ... not sure if you can see the extra bunks from the pic, but there are now four total bunks on the trailer.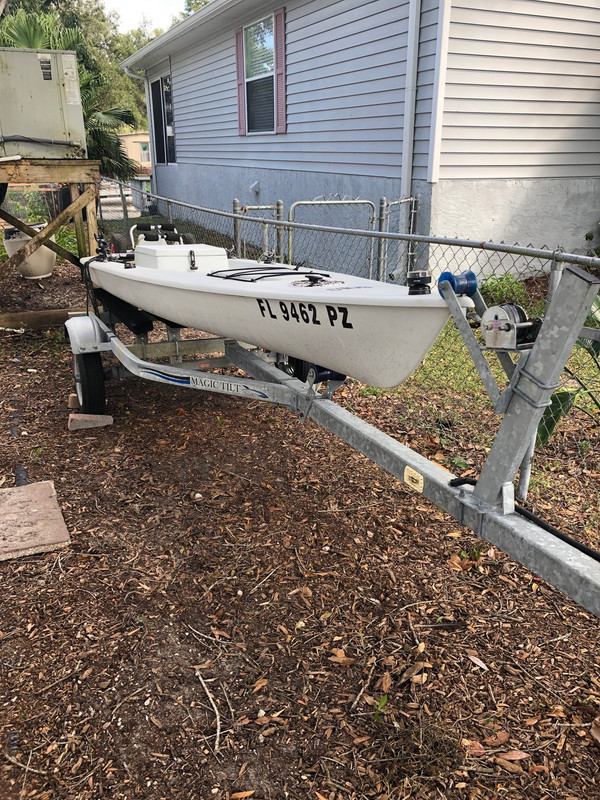 AP