Post by ap on Sept 30, 2019 16:10:34 GMT -5
It's been a little cooler here on the West Coast the last week or so. But with the cool-down, we've been having a bit more wind, which affects my ability to use the long rod to find fish ...
Finally had an small window of low winds forecast for Saturday, so got out on the water early. Apparently I wasn't the only one with this plan, as the ramp was loaded with boats, and as it turned out I had boats sitting in most of the areas I like to fish and usually have to myself.
So today I had to explore new areas. Started with an areas near the ramp. I had caught a red my last trip in this area. Sure enough, a little paddling in the area (oh yeah, was in my WW this trip), and I'm spooking a few fish that were sitting down. Started fishing the area, and finally I see what looks like a small school of reds heading my way. Get them in range, make the cast, miss, second cast -- connect! After a brief fight, I get this guy into the yak for a quick pic, and then sent him on his way ....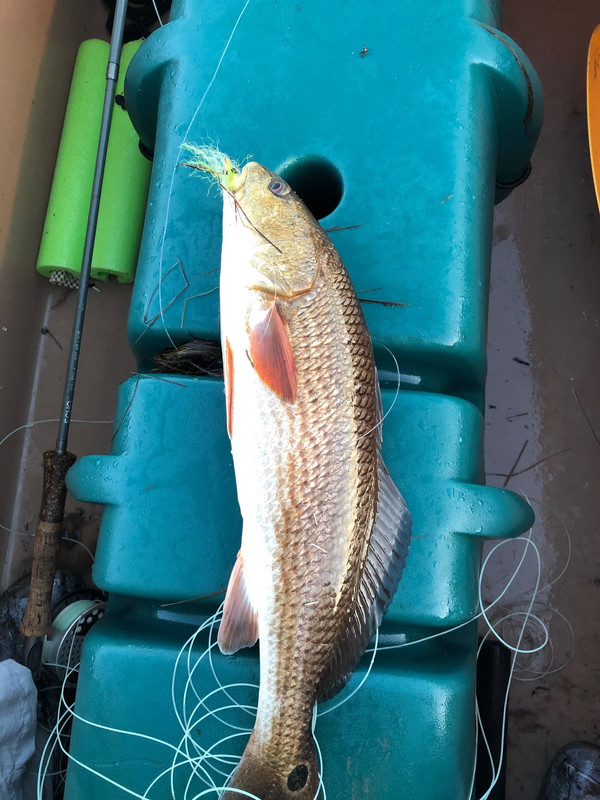 Caught on a small chartreuse/white clouser (bead chain eyes).
I made the cardinal mistake of leaving this area where I was seeing additional fish signs, to move to an area where I had success with trout the last trip. Unfortunately, two boats were parked in the area. I still slipped in and spend a30 min or so throwing a topwater popper in hopes of getting something to hit, but not luck. As I was wearing out my arm, I decided to give up on the topwater trout and concentrate on reds.
Due to all the boating traffic I decided to get as shallow as I could, which took me into waters I had not previously explored. I ended up finding some fish, but almost all were hunkered down and not moving. I'd spook them, or see them about the same time they say me, so no luck. I then moved into a smaller creek off the main channel that had a oyster bar fronting it, and on the back-side of this small creek I found fish again. These guys were really spooky, and I had no success with the fly, but think I could have gotten some on either spinning gear or for sure on (ugh!) bait. Just marked this area in my head so I can plan a return visit in the near future.
I founds some really big schools of minnows, but I'm not seeing yet the schools of finger mullet that I know will show later this fall. I can remember last year in this same area having bait everywhere and it being busted on by jacks, trout and reds. Just hoping wind stays down enough for me to use the long rod, otherwise I might have to break out the spinning rod.
Conditions just seem to want to get better with some dropping temps - it's fall!
AP