Post by vivian on Sept 8, 2019 9:42:22 GMT -5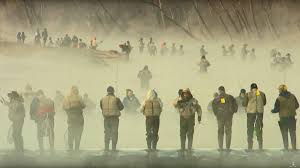 I hate fishing with people around and I am sure you all share this same view. But I needed to hone my skills for Arkansas since I can't afford to pay for guide service. Why not fish around a bunch of people fly fishing and see who is catching? Hone in on their technique and try to get a spot next to them to get the 411 on how to catch a trout?
We have to drive through Missouri to head south into Arkansas so I remembered there is such a place, Bennett Springs State Park in Missouri. The image above is from when the park opens in the spring. It's called "the opener". Thousands head to this park to get their flies in the water for the first time in the year. Horrible...isn't it
This is exactly the place I will learn at....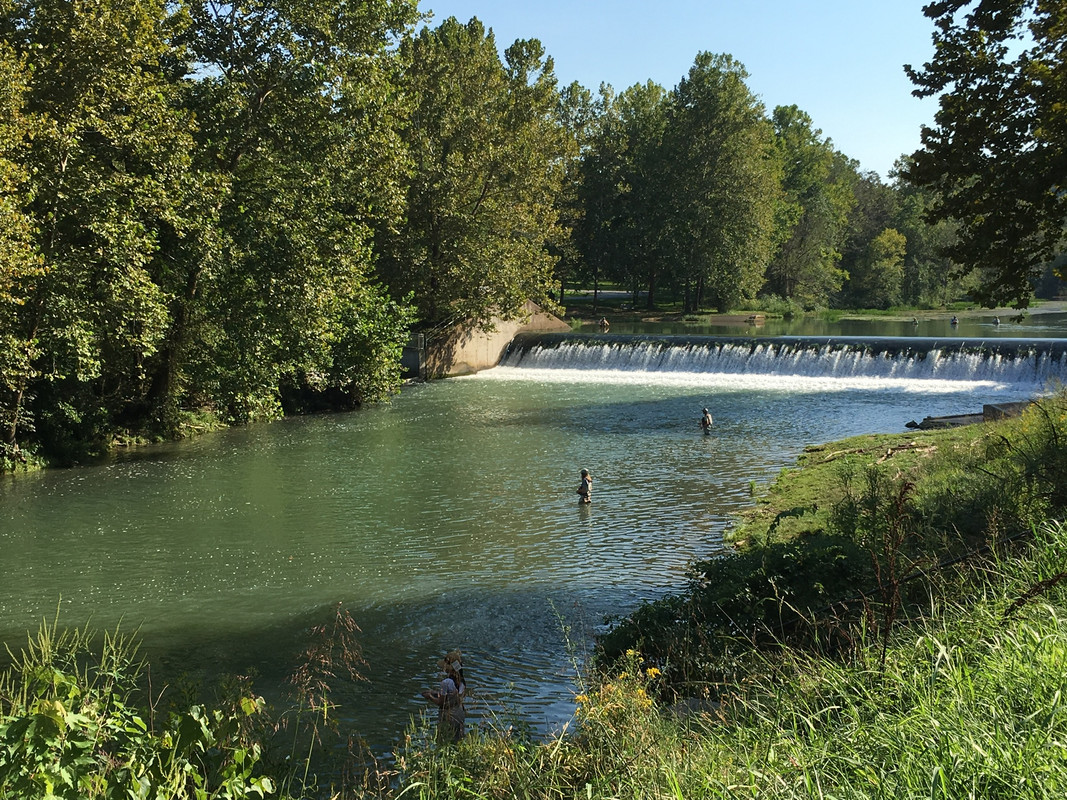 Unfortunately when we had reservations was the day after Labor Day weekend and the park was relatively empty. It is a beautiful park with resort like camping. Level, spacious concrete pads, full hook up, wifi and fine dining at a 1930's era CCC constructed restaurant. And only $30 per night
Bennett Spring pumps out a total of 100 million gallons of cold clean water EVERY DAY! The fishing is along the river that is fed from this spring. The river is divided into 3 zones - Zone 1 is fly fishing only Zone 2 is artificial lures and flies (no treble hooks no scented baits) Zone 3 is natural baits no treble hooks. There is plenty of space for many people its a huge park. The hatchery within the park releases 600 fish per day into the river. But there are many rules as you would suspect.
You have to purchase your fishing license and a daily trout tag which is only available the day before you fish from 6:15-8:30 at the park store. The tag must be pinned to your hat facing back so it can be seen by wildlife officers. You can keep 4 rainbow trout and a maximum of 8 for your entire stay. The tag must be with your catch when transporting it in the park. Once you have 4 on your stringer you have to leave the river until the next day. Brown trout under 14" are OK to keep. There are some very big trout here and I broke off twice.
On the water you must wait to hear the whistle to begin (more like a tornado alarm) at 7:30 and stop fishing when whistle blows at 7:30 pm. Here I am with fellow fishermen waiting for the 7:30 am whistle to put lines in the water.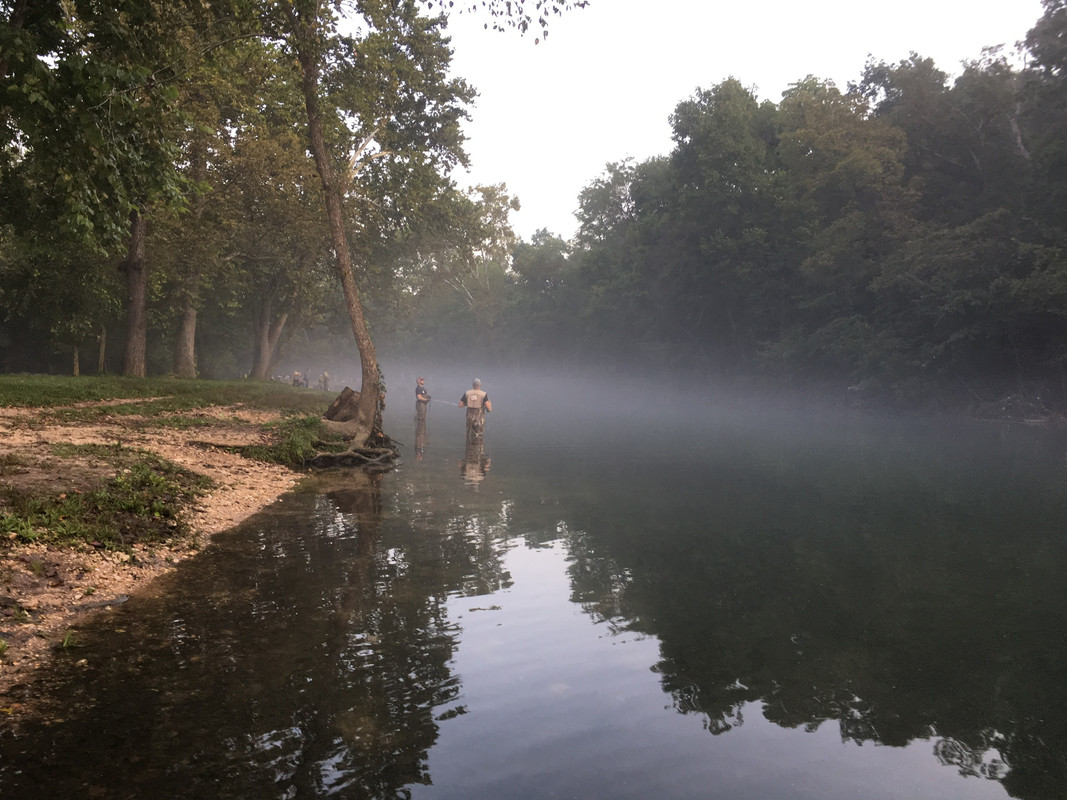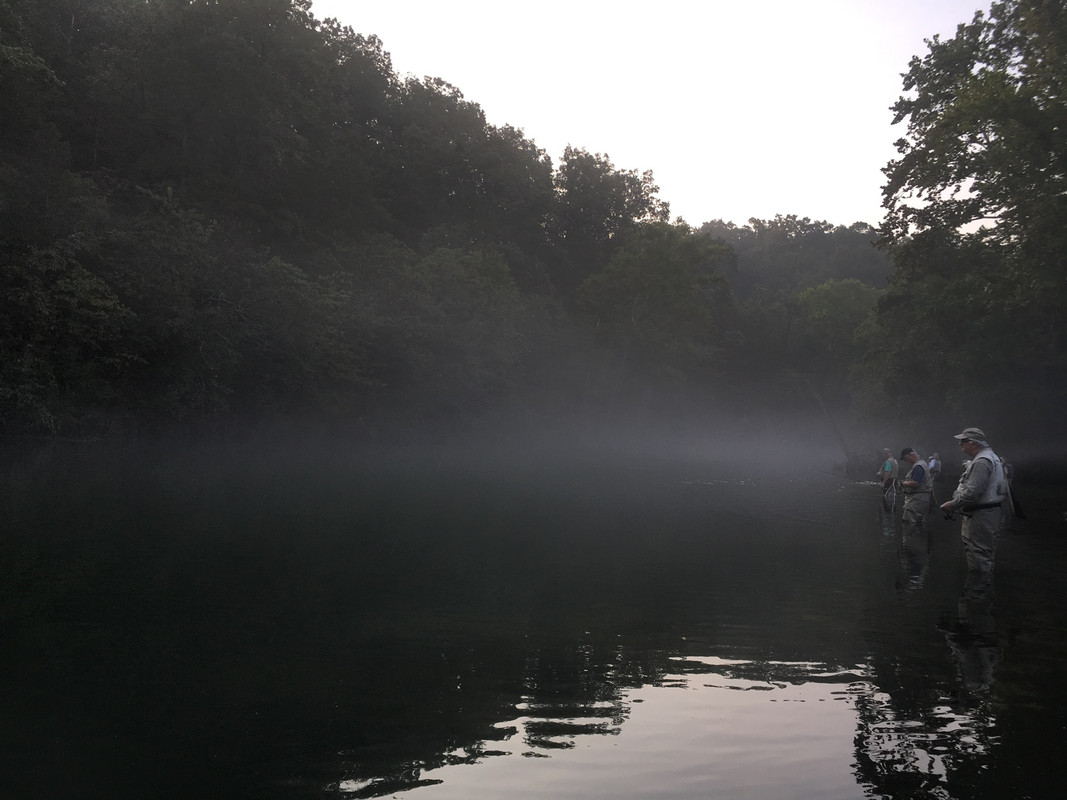 I got some intel from a fellow fly fisher and he happens to also guide on the White River (where I am heading next) BONUS
He corrected my method of setting the hook on trout which is completely different then setting the hook on saltwater fish. I lost many to this mistake. He also set me up with some flies that were working better than what I had. So I kept 3 rainbow trout to try on the grill stuffed with lemon, butter, dill and salt/pepper. Next time I will keep some to fry and taste that method.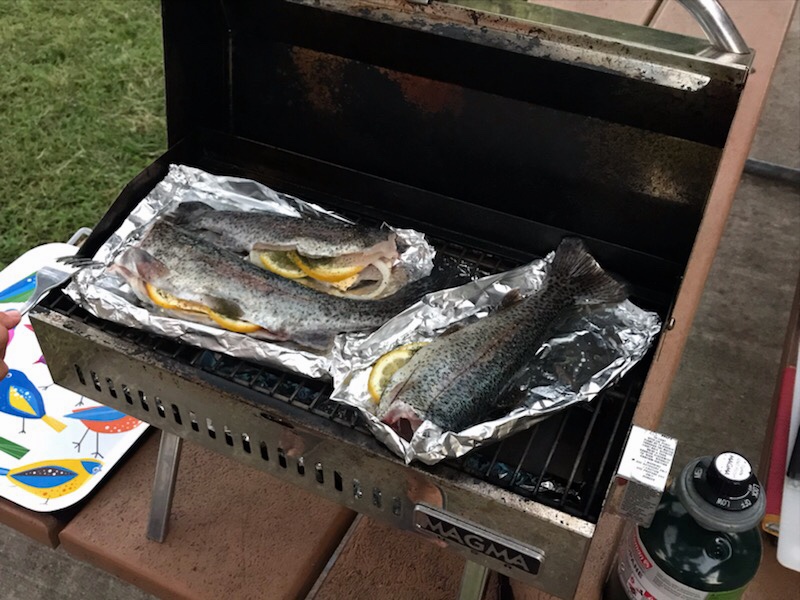 After two days of nonstop fishing and learning I went through every single one of my leaders so had to get more. Broke off on some big fish the tippet was only 3lb test and with the current and a large fish, it takes skills that I don't have yet.
Well, I am in Missouri real close to Springfield. You know what that means...the first ever Bass Pro Shop in the country and the biggest one is here! I just had to go there to complete my stay in this great state. Unfortunately, they did not have even one saltwater lure but I made do.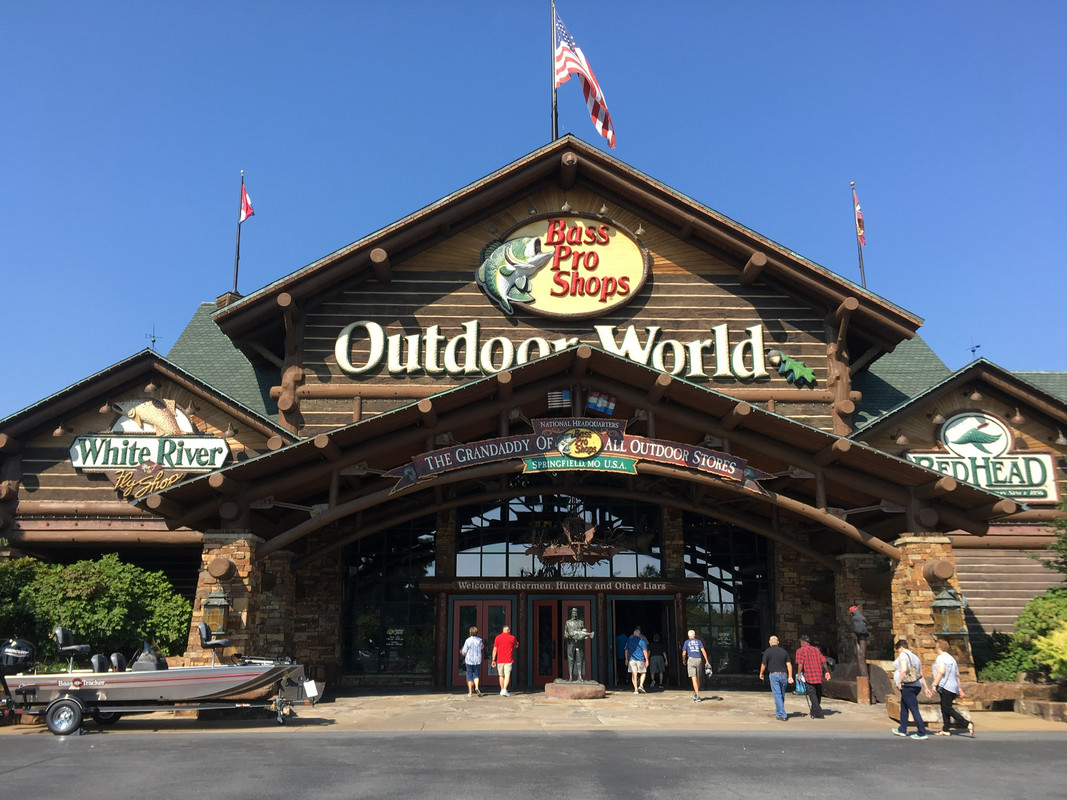 One last image of the peace and quiet before the weekenders showed up.