Post by ap on Aug 13, 2018 18:54:33 GMT -5
I'm not an offshore guy, but I got an invite to go out both Saturday and Sunday on two different boats to do some Red Snapper fishing. The Mini season for recreational catching of Red Snapper in the Atlantic was this weekend and next weekend. Since I was booked next weekend, I jumped at the chance to go this weekend. There would be 4 of us on a 21' Mako. It was a nice offshore boat with lots of freeboard.
What a madhouse at the ramp! We figured it would be bad, and got to the ramp before 4:30am to beat the crowd. Didn't work. About 20 boats in front of us waiting for their turn to launch. By the time we launched, the line and the ramp was about 50 boats waiting.
Took off to a spot about 20 miles out in about 70-80 feet of water and jigged up some small grunts for live bait, then headed to our spot. Water was 1-2', but 3 second interval and there was some wind. Headed south and a few miles further out to about 90-100' of water and began fishing. Main baits were squid and cigar minnows, with one rod with a livey on it.
Fishing was pretty good. When you are over good bottom, as soon as you got there, something was tapping on your bait. Might be a sea bass, might be a big grunt, might be a trigger fish, might be a snapper. We went through a lot of bait, but brought up quite a few small fish before we got our first nice snapper, about 8-10 lbs. Lots of smaller snapper came up, which we released as you only get 1 snapper per person. Got two nice triggers, then another big snapper (about 10-12 lbs), a smaller snapper (about 5 lns). We were about to get run off out spot by a brewing storm when I had a nice bite and hooked what I knew was a big snapper. I had trouble getting it off the bottom ....... and right then, the fight stopped for a sec, then the line began to peel off the reel. Tax Man. Brought the shark all the way up to viewing depth -- about 1 6-7'er. Right then, the line goes slack -- figured he'd bit through the line but no! Up comes the head and shoulders of what would have been the biggest snapper of the day - the shark was never hooked!
We ended up with our 4 snappers, a vermillion, and 2 nice triggers.
Sunday, went out with a friend on his Panga 19'. This would be the farthest he has ever gone out, and we were a little concerned about conditions. Luck prevailed, and the winds and seas were calmer than they were on Saturday. Boat ramp was a lot quieter too, not neat the number of people. We launched and left the port in the dark to begin the hour-long run, and we were the second boat at the spot. Began fishing, and the trolling motor that we were planning on using as an anchor lock would not power on. We ended up drifting the spot ...... then powering back and drifting again. The spot is not big, so you only got about 60-90 seconds of fishing the prime location per drift. This day I seemed to have to touch, and I caught 2 of the bigger snapper of the day.
So a good time had, but (a) it was a loooong day on the water, (b) crazy lines at the ramp, at least on Saturday, (c) trying to figure out how much it cost to get those snapper fillets. Gas, ice and bait alone, I'd estimate we were at $20/oz. This is probably why I will never own an offshore boat ...................
Lots of pics taken, but most weren't so great ... but here is one just for proof (from Sunday) ...
'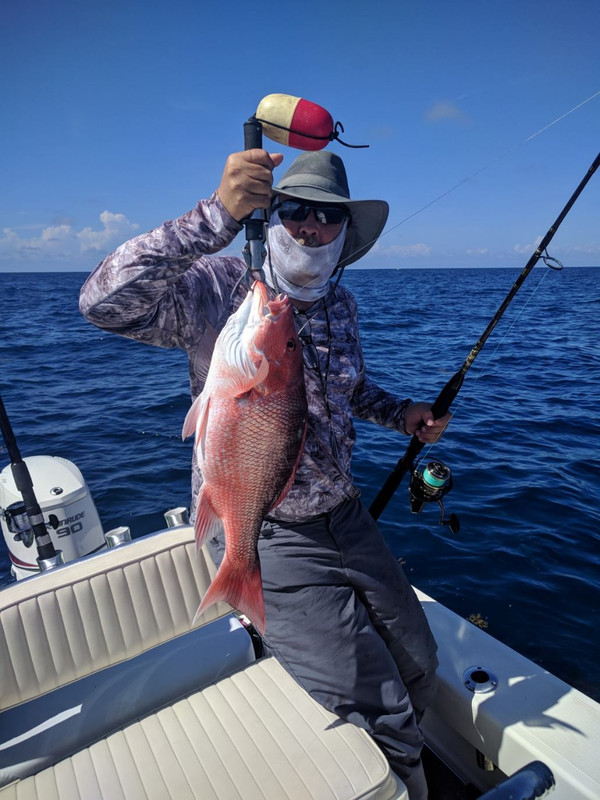 AP