Post by ap on Jun 11, 2018 7:32:45 GMT -5
Had a friend invite me out on his 19' Panga for some offshore fishing. Weather was perfect -- very light winds, waves 1 or so early. He doesn't go often, so we're both pretty inexperienced in this game; knowing just how to get bait, how to rig, where to look, what to do or not do, etc ....
Launched out of Port Canaveral and first stop was next to a bouey to sabiki up some bait ................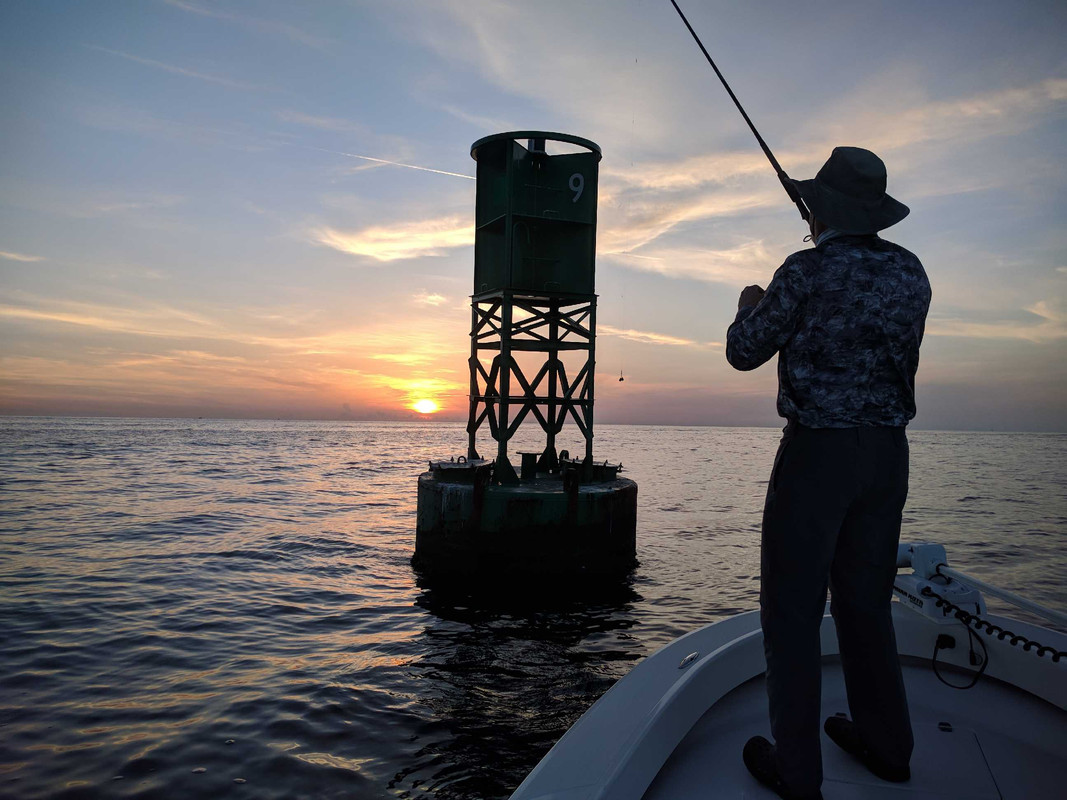 For whatever reason, we had difficulty getting a lot of bait. Which was strange, because this is what we were seeing ......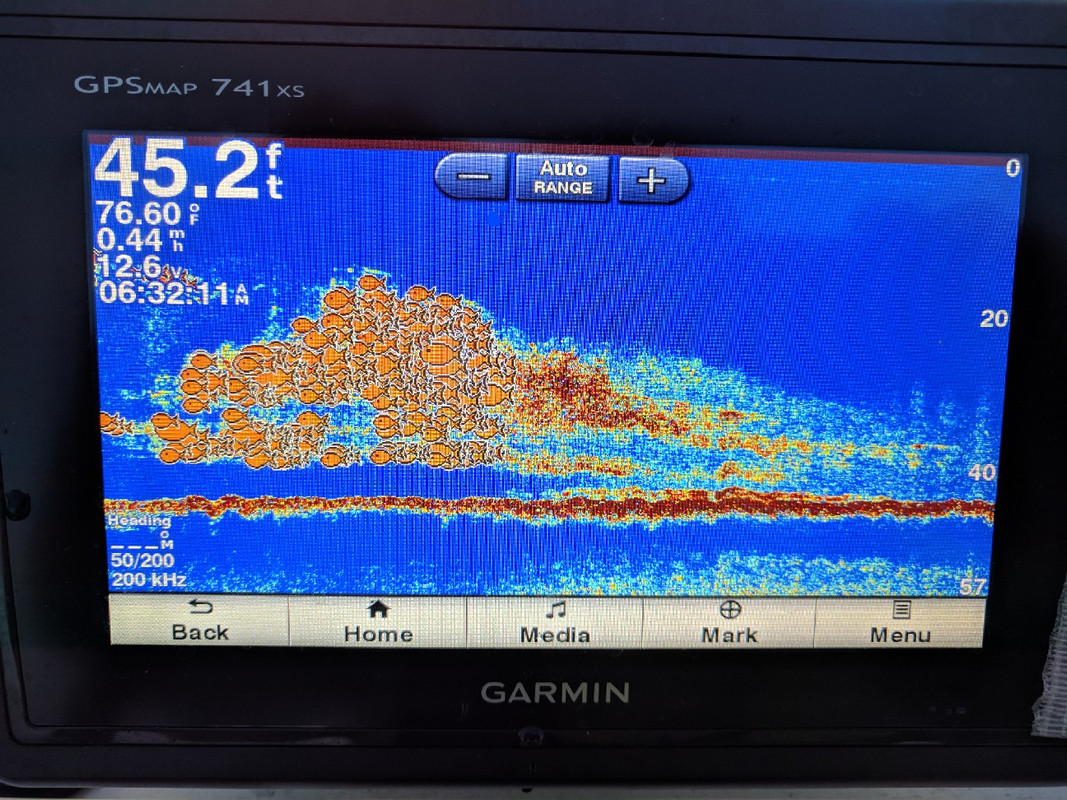 Ended up only getting about a dozen baits, but didn't want to waste any more time and decided to start fishing. Backup plan was to troll some lures if we ran out of bait.
Decided to run down the beach to see if we could find any baitfish pods that we could castnet, and look for fish as well. As we got to one spot, there were already several boats there fishing. We decided "what the heck" and put out a bait on a stinger rig. About 15 minutes later., we had a knockdown! Drag screaming, we fought the fish to boat-side where I was handed the gaff. Never used a gaff before! Oh well, first time for everything! But managed to do it properly and we boated a kingfish! We were both excited as everything as this was the first offshore fish we had boated together, using our gear, etc.
Continued fishing the area (about 35' of water) and 30 min later another knock-down, but the fish pulls the hooks after about 30 seconds or drag-running. While we were re-rigging, I spot a pod of tarpon! BIG Tarpon. The were booking down the coast. I got off one cast with an lure, and apparently there were small kings trailing the tarpon as I saw them slash (and miss) my lure. After that we chased the pod of tarpon a couple of times trying to get ahead of them, but they would just go under/around the boat and re-surface behind us every time. They were really booking it. We gave up the chase .........
Went back to slow trolling with the last of our baits, and had two more knockdowns but could not quite get the hooks set (we are new at this) or they pulled right after the strike. Chased a few smaller bonito slashing small bait on top, but they didn't want anything we had. Decided to call it a day and head in before everyone else did.
Because FishHead always demands picture proof ...........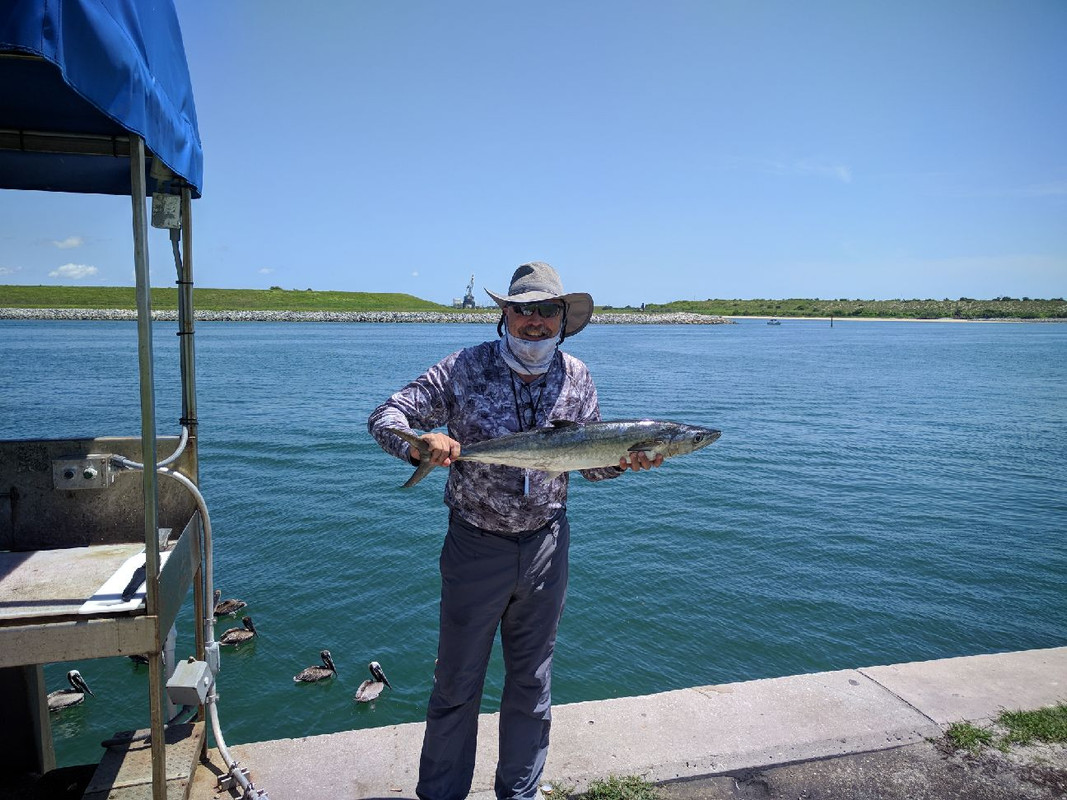 35" kingfish.
AP